Well, I went to the exhibition. It was shut. That'll teach me not to check opening times before I left the house. But it was fine. Rich arrived in town early so I went to meet him for coffee, which developed into cake, and lasted for about three hours by the time Dan joined us for another and we headed off to the cinema. Rich is on fine form, and seems to be feeling much more relaxed and confident since he's been to see his doctor and had a holiday in Turkey with Dan. He was a pleasure to spend time with this afternoon.
The film,
Drag Me To Hell
, was pretty good. I think I actually might have screamed out loud like a little girl at some point. But it also had some really funny moments. I don't want to give anything away to anyone who might be planning on watching it, but every seance should have a talking goat :p Poor Rich nearly crapped his pants, and Dan had to climb over me about a third of the way into the movie so he could go sit on the other side of Rich and hold his hand. Bless.
After the film, I stomped from town to the 'burbs about a mile and a half in 20 minutes or so to meet Mr G. As a result I now have very blistered feet due to wearing tights with my Cons instead of socks. I get the feeling I'm going to have to swallow my pride and wear the new lilac Crocs I caved in and bought yesterday for Glastonbury even though I think they're spectacularly ugly and make my feet look enormous. They are unbelievable comfortable though, and I think that's what I need.
On an unrelated note, I was looking around my Facebook earlier and noticed that a friend had posted some pictures from filming of an independent movie she was cast in recently called
A Very British Cover Up
. The "big name" in said movie is Gareth David Lloyd. I've never found him particularly attractive, but all I can say in this instance is "oh dear".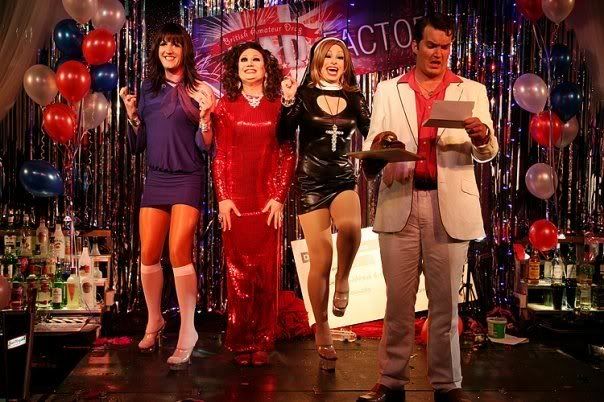 In fact, I don't think there's enough "oh dear" to sum up how I feel about that photograph.
Off to London tomorrow. Weather forecast looks good again. Happy days :)